OUT NATO FROM BALKANS!
DEATH TO THE OCCIDENTAL IMPERIALISM!
LONG LIFE TO THE RESISTANCE AND THE STRUGGLE OF THE WORKING MASSES OF YUGOSLAVIA!
FOR THE INTERNAZIONAL UNITIFICATION OF ALL PROLETARIANS OF EVERY RACE AND COLOUR!
---
---
We report hereby our activity against the western aggression to ex-Jugoslavia
We invite the comrades which share our positions to propagate our issues, over all among serbian and albanian immigrants, to be able to work at the recomposition of the proletarian class in the Balkans against which it is addressed the whole western imperialistic politics – both of war and of peace – as well as the politics of local Serbian and Albanian ruling classes.
Moreover we ask to the militants engaged to oppose the war against Serbia, to send us all the news about mobilisations and information to can support the struggle campaign among the italian proletarian class.
Write to our e-mail
At che fare's page in english
Folowing we list a series of texts took from our hand bills and some our taking up of positions which can be read or unloaded: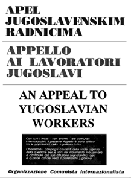 Our organization has always dedicated a special attention to the development of the class struggle in the ex-Yugoslavia as results from the great quantity of articles dedicated at this matter printed on our newspaper "che fare".
Our has never been a mere academic or for historiography , but a choice counseled by a precise militant engagement which together with rigorous analysis saw ourselves since ever in the front line to take a stand both toward the italian proletarians and toward the ones in the ex-Yugoslavia.
The appeal to Yugoslav working men - we reproduce here aside - written in the 1992 and distributed also in Belgrad, is a strong evidence of our attitude and internationalist engagement.
It is possible to require a copy in one of the three languages in which it has been printed to our e-mail.
For english version you can download by clicking here
For Serbian-Croatian version you can download here
---
top